Jurassic World: Dominion Dominates Fandom Wikis - The Loop
Play Sound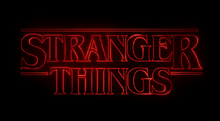 Stranger Things is an American science fiction horror web series. Created by brothers Matt and Ross Duffer, the eight-episode series was first broadcast on Netflix on July 15, 2016 as one of its Netflix Originals.
The series contains many references to other media and is full of homages to classic horror movies, science fiction, and other 1980s films. Its references and influences range from the works of Stephen King to John Carpenter to Stephen Spielberg, and more. However, in an interview with Esquire, Matt Duffer revealed Elfen Lied to be an influence as well, saying "There's an anime called Elfen Lied, and I didn't think that many people have seen it, but people online picked up on that in the first two-and-a-half-minute trailer." This connection was confirmed again in an interview with The Hollywood Reporter.
All eight episodes of the series are currently up for viewing on Netflix, and a second season is reportedly in development. Its trailers can be viewed here and here.
Plot
In the town of Hawkins, Indiana, on November 6, 1983, 12-year-old Will Byers suddenly and mysteriously vanishes. His mother Joyce, frantically searches for him while the chief of police, Jim Hopper, begins an investigation. Will's friends, Dustin, Mike, and Lucas, begin searching for him too and come to find Eleven, a young girl with psychokinetic abilities who knows where Will is. As all three parties try to uncover the truth of Will's disappearance, a sinister government agency arrives to cover it up, and other, more nefarious forces appear to be at work.
Homages to Elfen Lied
Eleven is a young girl with psychic abilities who escapes from a laboratory, only to be pursued by a secret government agency. She's named after a tattoo on her arm reading 011, and she is nicknamed "El" by Mike.
Eleven refers to a doctor from the laboratory as her "Papa" but he is most likely not her biological father.
In the first trailer, El is shown interacting with a music box.
Episode Two is called "Chapter Two: The Weirdo on Maple Street," which is also an homage to the story "The Monsters are Due on Maple Street" from The Twilight Zone TV series. In addition, the word "maple" has considerable meaning within Elfen Lied in relation to the Maple House and of the protagonist.
Eleven's name can be seen as an indirect reference to the Elfenlied poem/song, as "elf" is German for eleven. This pun is present in the original poem.
Trivia
Eleven has begun to be referenced on You Tube's Channel Awesome, under its Awesome Comics review show and in the irreverent reviews of the Nostalgia Critic.
The show received a shout-out and rec during 2016's four-night crossover between the CW's shows based on DC Comics, via Flash friend Cisco 'Vibe' Ramon.