Jurassic World: Dominion Dominates Fandom Wikis - The Loop
Play Sound
(article in progress, please pardon the mess!)
Nogeyuki Zoo (based on the real life Nogeyama Zoo) is a zoo within bus and train travel distance from Kamakura. The site is incredibly important to Lucy, as it is the site of her happiest moments from her childhood.
In the manga
(coming soon)
In the anime
(coming soon)
Real Life
The author based Nogeyuki Zoo on the real life Kanazawa Zoo in the southern part of the city of Yokohama, Japan. It is a branch of the Nogeyama Zoo, located in the central part of Yokohama until 1988. Kanazawa Zoo became independent around that time, notable for its elephants and giraffes.
It's not clear why Lynn Okamoto changed the zoo's name from Nogeyama to Nogeyuki, but the most likely reason is to avoid possible copyright infringement claims by the zoo. This legal consideration could also explain why the series calls it Nogeyuki and not Kanazawa as well.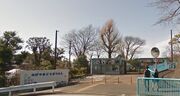 In the manga, Kouta and Lucy reach the zoo by train, but there isn't a railway connecting Gokurakuji Station and the Zoo. Using the train would mean they would have to take three separate trains to get there, which is rather unreasonable for a child's monetary allowance depending on the rates. The anime circumvents this by having the pair take a bus to the zoo.